Great news on synthetic food colorings!  The FDA has finally agreed to "discuss" the issue of their link to children's behavior disorders.
Those who have heard my "Food for Thought" presentations will recall that synthetic food colorings have been linked with increase of hyperactivity in ALL children, according to a study of about 300 kids, published in the premier medical journal Lancet back in 2007. (Other studies have also shown this link, but this article was the first to be published in a top medical journal.)
The London Daily Mail immediately launched a media campaign to publicize this finding, with fantastic results–for Europeans.  The British Food Standards Agency (parallel to our FDA) requested that manufacturers voluntarily remove synthetic food colorings.  British supermarkets reformulated their brands to eliminate artificial colorings.  Major candy makers such as Mars and Cadbury reformulated their products for the European market.  In December of 2008 the European Parliament voted in a labeling law requiring warning labels on products containing artificial colorings: "may have an adverse effect on activity and attention in children." The law became fully effective in July of 2010.
The end result is that European children now can eat colored sweets without synthetic colorings, whereas American kids are consuming these substances.  Note  the difference between the US and UK versions of Kellogg's cereal bars.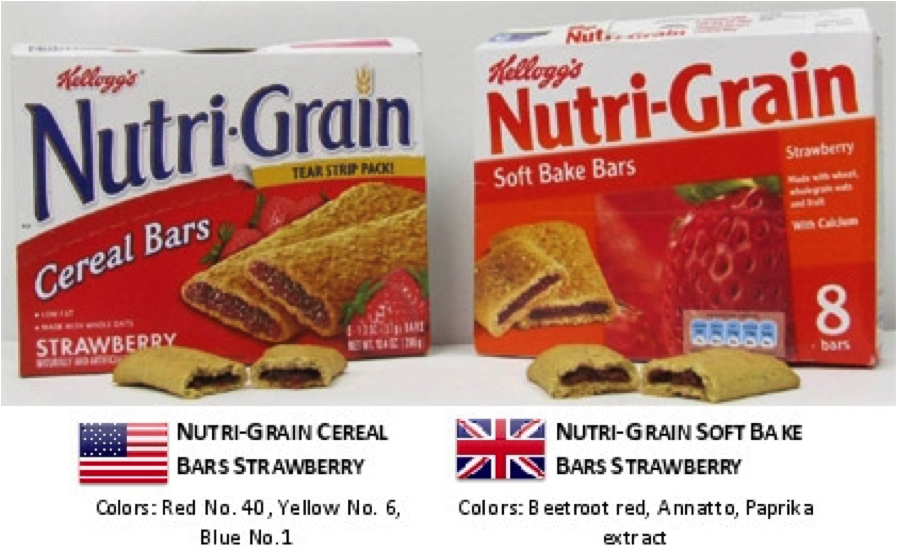 [Photo courtesy of the Feingold Association.]
In the United States, the scant media coverage of the Lancet study merely suggested that parents of ADHD kids exercise caution in giving their children these colorings.     The American Academy of Pediatrics newsletter in October of 2008 recommended that removal of food additives should be part of any treatment plan for ADHD.   The editors admitted that this recommendation reversed the Academy's prior policy, which was that additives have no bearing on ADHD.
It is now 2 years after the Academy of Pediatrics' recommendation and 3 years after the Lancet article's publication.   The FDA announced on November 24 that the Food Advisory Committee will meet  March 30-31, 2011, in Silver Spring, Maryland, to "discuss whether available relevant data demonstrates a link between children's consumption of synthetic color additives in food and adverse effects on behavior."
Only an hour has been set aside for oral public comment, but one can also submit written opinions.  Send them by March 23 to the contact person, Carolyn Jeletic, Center for Food Safety and Applied Nutrition (HFS–024), Food and Drug Administration, 5100 Paint Branch Pkwy., College Park, MD 20740, 301– 436–1913.
I plan to submit a statement, and I urge that those of you who have seen your children's learning or behavior improve with removal of food colorings likewise submit a written document.  Your statement does not have to be scientific—just tell the story of your own experience.
For more information on the meeting, see http://edocket.access.gpo.gov/2010/pdf/2010-30187.pdf.
For more information on additives and children's behavior:
Feingold Association: http://www.feingold.org
Food Intolerance Network: http://www.fedupwithfoodadditives.info
Center for Science in the Public Interest has a brief article covering the risks of cancer as well as learning difficulties from synthetic colorings: http://www.cspinet.org/new/201006291.html